How to find us and how to contact us

Indiantree Farm is on State Route 515, one mile north of the village of Walnut Creek.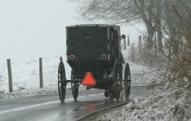 A buggy travels near Indiantree Farm on County Road 114.
The way we travel, it takes about six hours to get here from Cleveland or Columbus, but that's because we stop at every coffee shop and antique store between here and there.
If you drive directly here, it takes about an hour and a half from either Cleveland or Columbus, but that's not as much fun as stopping every few miles. So give yourself plenty of time and stop to smell the coffee ... or the fresh-cut hay.
Anyway, we're at 5488 State Route 515, between Rts. 62 and 39. (Another way to look at it: Rt. 515 runs between Winesburg and Walnut Creek.)
___________________________
Our mailing address is:
Indiantree Farm, P.O. Box 103, Walnut Creek, Ohio, 44687
Our email address is indiantreesncty@aol.com
Photos and text © Copyright 2022
Indiantree Farm
. All rights reserved. No re-use without permission.